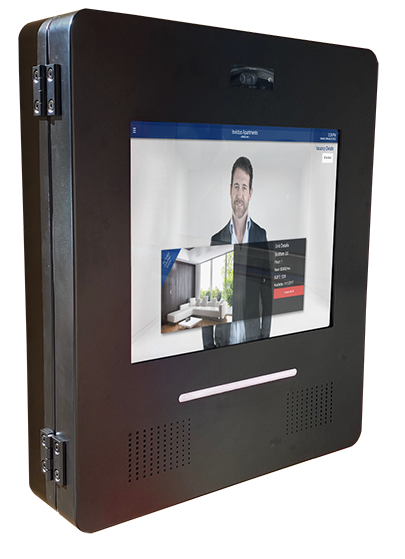 Specially developed encoding, packaging, and transport technology for mobile remote access (WLAN, 3G, 4G/LTE, 5G), resulting in low latency for audio & video and super-fast connection establishment
Push notifications to issuer of digital key
Open API interface for seamless user-friendly integrations
End to end integration with leading access control companies
Our intercom features include:
1080p HD Industrial Grade Touchscreen
Activity logs and recorded visitor history
Timestamped photos and video recording of digital key use
No DynDNS or port forwarding / NAT required
Minimum required internet connection: 450 Kbit/s with an option for cellular backup or Wi-Fi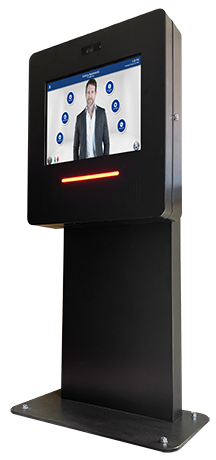 Our kiosks are fully integrated with top access control companies to give you the best in entryway technology. Prospective residents can check-in at the kiosks and receive a map to guide them to your leasing office or desired unit, as well as view vacancy lists in your property. Invictus' kiosks make it easy for you to track who enters and leaves your building with our time-stamped images, providing safety for your community.
Invictus' kiosks come with industrial grade parts that are vandal-proof and vault tested, including motherboards and LEDS. The kiosks have also been halt tested with a passmark of fifty cycles and operating temperatures of -30 degrees to 85 degrees Celsius. Our modular design allows your kiosk to be interchangeable between wall to pedestal mounts. Lumi is also incorporated for picture quality, as well as future-proof facial and thermal sensoring.